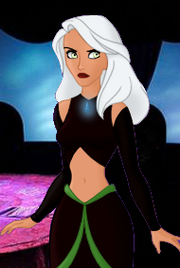 Madam Luna Leota
is a Thunder Mesa Resident and personal psychic to the Ravenswood Family.
Background Information
Edit
Luna was born into a family of gypsies. Much like her sister Eleanor Leota (who went on to be a psychic for the Gracey Household), Luna also had psychic powers, and as such, it made her view life in a different way to normal people, and act strangely in front of everyone she came across.
She came into the employment of the Ravenswood family, and quickly fell in love with Elias Ravenswood. The two had dated for months when Henry Ravenswood told Luna that Elias has to focus on his future, which meant Luna had to leave. She left without saying goodbye to Elias, and Henry told his son that she had died in a mining accident, which triggered Elias' depression and drinking.
She would later return to town, to become the town mystic, and found out Elias had attempted to move past her. The two remained good but strained friends.
After the tragic wedding, Leota's spirit got trapped in the crystal ball, guiding visitors to the Phantom Party.
She is the sister of the original Madam Leota, from the Haunted Mansion.