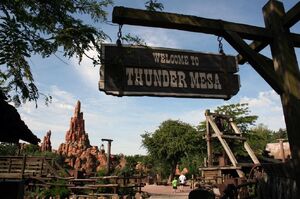 Frontierland
is one of the themed lands at
Disneyland Paris
 in France. Located in the area that is traditionally occupied by Adventureland, Frontierland at Disneyland Park opened with Euro Disneyland in 1992. Unlike all of the other instances, this instance has an elaborate backstory concerning the town of Thunder Mesa, founded by Henry Ravenswood to support the mining of
Big Thunder Mountain
. This backstory also serves as the foundation for several of the attractions, such as
Phantom Manor
. The land is the largest of all of the Frontierlands thus far, containing the entire Rivers of the Far West within its borders.
Two riverboats circle the Rivers of America, the Molly Brown and the Mark Twain. Critter Coral was an old area of the land converted into Woody Roundup, a meet and greet area with Woody from Pixar's Toy Story and Jessie from the sequel Toy Story 2. The land is converted into 'Halloweenland' in October, with many pumpkins and other scary characters lurking around every corner. Frontierland borders Adventureland and the Central Plaza of Main Street, U.S.A. via Fort Comstock.
In October 2008, for the first time in Disney history, Jack Skellington and Sally F. Skellington from The Nightmare Before Christmas made appearances as meet and greet characters in Frontierland's halloween overlay. They were situated outside Phantom Manor.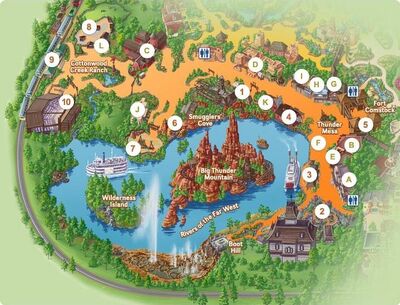 Attractions
3. Thunder Mesa Riverboat Landing
4. Rustler Roundup Shootin' Gallery
5. Legends of the Wild West
6. River Rogue Keelboats
7. Pocahontas Indian Village
8. Woody's Roundup Village
9. Disneyland Railroad Station
10. The Chaparral Theater
Dining
C. Cowboy Cookout Barbeque
D. Fuento del Oro Restaurante
E. Last Chance Cafe
F. Mrs. Winner's Hot Dogs
Shopping
G. Tobias Norton & Sons
H. Bonanza Outfitters
I. Eureka Mining Supplies
J. Pueblo Trading Post (closed)
K. Legends of Hollywood
L. Woodcarver's Workshop (seasonal)